"South Crofty is not just an old operation, but a new project leveraged with existing infrastructure"
(Owen Mihalop - Cornish Metals' COO)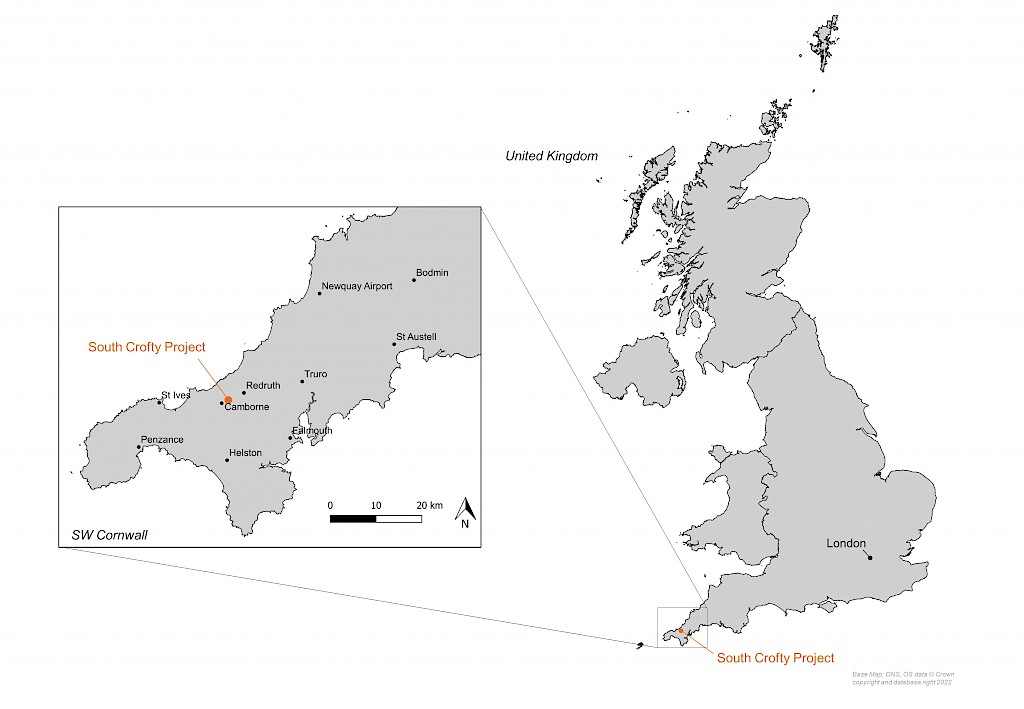 Cornish Metals Exploration's 100% owned South Crofty tin project is a strategic tin asset and is located in the Central Mining District of Cornwall, in the towns of Pool and Camborne, South West England.
Tin mining in this region dates back to 2,300 B.C. Large-scale production at South Crofty first started in the mid-1600s (the first documented production dated in 1592). The mine has been in operation intermittently since then, with the last closure in 1998 coming after a prolonged period of depressed tin prices. Historical production between 1700 to 1998 totaled over 450,000 tonnes of tin from the Central Mining District.
In March 2016, Cornish Metals entered into an agreement with Galena Special Situations Fund and Tin Shield Production Inc. to acquire a 100% interest in Western United Mines Ltd. ("WUML") and Cornish Minerals Limited (Bermuda) (the "Companies"), which owned the South Crofty tin project plus additional mineral rights over a further 7,500 hecatres located in various parts of Cornwall. The closing of the acquisition was announced on July 12, 2016.
The South Crofty project is fully permitted, having underground permission (mining licence) valid until 2071, planning permission to construct a new process plant and a permit from the Environment Agency to dewater the mine. Cornish Metals plans to complete a feasibility study and to bring the project to a production decision.
The underground permission area covers 1,490 hectares and includes 26 former producing mines. Current infrastructure on the property includes four usable vertical shafts and a 300-meter decline. Regional infrastructure includes excellent access to power, roads and rail. The process plant site is adjacent to the railway line and accessible grid power crosses the property. South Crofty mineralization occurs in laterally extensive lode structures, with some over 4 kilometers long, and extending to a vertical depth of at least 1,000 meters.
Infrastructure for Future Operations
Significant infrastructure for future operations is still intact:
Usable shafts (for ventilation and hoisting to a sub-level with connection to decline).
1. New Cooks Kitchen: 770m deep 6.0m x 2.5m (principal production and service shaft)
2. Roskear: 610m deep, 4.9m dia.
3. Taylors: 520m deep, 6.0m x 3.0m
4. Palmers: 500m deep, 2.5m x 1.8m
5. Williams: 915m deep, 5.8m dia.
There is decline access available for future expansion and area set aside for process plant construction, offices, etc. with full extent planning permission. The Process plant site adjacent to railway line with access to grid power.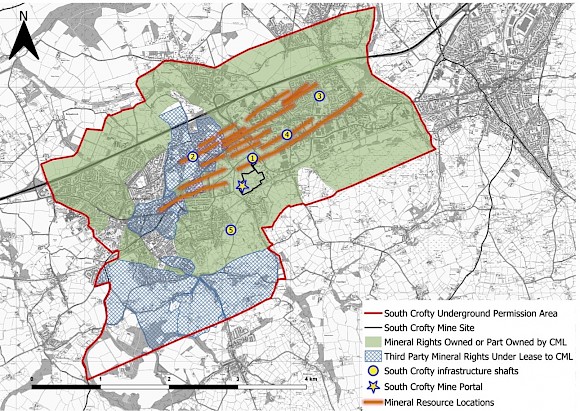 2023 NI 43-101 Updated Mineral Resource Estimate
In 2020, Cornish Metals ran a "proof of concept" drill programme designed to demonstrate the ability to infill drill the current resource from surface, to intersect multiple lodes from single drill holes and to show the potential exists to materially increase the current resource. This as a means to undertake resource definition drilling and a path to completion of a feasibility study. The results confirmed the high-grade nature and persistence of the known mineralised structures within South Crofty Furthermore, completion demonstrated management's belief in the exploration potential at South Crofty to materially increase the existing Mineral Resource base.
In September 2023 we released an updated JORC (2012) Mineral Resource Estimate ("MRE") for the South Crofty Tin Project. The focus of this new MRE is the Lower Mine area ("Lower Mine") tin-only section of the Project, which has been subject to a thorough review, including further digitisation and modelling of historical data, but the Upper Mine polymetallic area has also been reported using current metal prices.
Furthermore, assay results from recent drilling of the existing major structures at depth (No.4, No.8, Roskear and North Pool Zone) as part of a metallurgical testwork programme, have been incorporated into the new MRE.

Key Points
• 39.0% increase in tonnes and 31.6% increase in contained tin in the Indicated Mineral Resource category from the 2021 MRE (see news dated June 9, 2021);
• 35.6% increase in tonnes and 15.5% increase in contained tin in the Inferred Mineral Resource category from the 2021 MRE;
• This MRE is based on a 0.6% Sn cut-off grade, as was used in the 2021 MRE;
• The majority of new Mineral Resources are contained within the central part of the mine in No. 1, No. 2, No. 3, Main, Intermediate, North and Great Lodes following digitization and modelling of historical data;
• The major lode structures that comprise the Mineral Resource remain open along strike and at depth;
• The MRE was prepared by Cornish Metals' in-house geology team and independently reviewed and verified by Nicholas Szebor of AMC Consultants (UK) Ltd ("AMC"), who takes responsibility for the estimate;
The updated Mineral Resource Estimate ("MRE") for South Crofty in accordance with the JORC Code (2012). The Mineral Resource is divided into the "Lower Mine" and "Upper Mine" areas for reporting purposes. A summary of the updated MRE is tabulated below:
South Crofty Summary (JORC 2012) Mineral Resource Estimate

Area

Classification

Mass

(kt)

Grade

Contained Tin /

Tin Equivalent

(kt)

Lower Mine

Indicated

2,896

1.50% Sn

43.6

Inferred

2,626

1.42% Sn

37.4

Upper Mine

Indicated

260

0.99% SnEq

2.6

Inferred

465

0.91% SnEq

4.2
The updated 2023 Mineral Resource Estimate for South Crofty is available in a report titled the "South Crofty Tin Project - Mineral Resource Update NI 43-101 Technical Report", dated October 27, 2023.
Next Steps
Following the completion of the £40.5M financing in May 2022 (£25M strategic investment from Vision Blue Resources and £15M from UK/Canadian investors), Cornish Metals set out to achieve the following objectives and is on schedule to:
Construct and commission a water treatment plant at South Crofty by the end of summer 2023
Dewater the South Crofty underground mine workings
Complete a drill program to undertake metallurgical studies as part of the South Crofty Feasibility Study
Deliver a Feasibility Study soon after completion of dewatering, leading to a decision to proceed with Project Financing and mine construction.

Planning activities related to the dewatering of South Crofty
The South Crofty mine workings are presently flooded and dewatering is required prior to the potential reopening of the mine. In March 2017, a water treatment trial was successfully completed at South Crofty. In October 2017 the Environment Agency granted a mine waste permit with water discharge consent to Cornish Metals that will allow treatment and discharge of up to 25,000m3/day of mine-water, following commissioning of the new WTP in October 2023. Mine dewatering is expected to take around 18 months after commissioning of the WTP through to the end of 2024. Treated mine water from the newly constructed WTP will be discharged into the Red River via the Dolcoath Deep Adit. Since South Crofty closed in 1998, untreated mine water has directly entered the river. Dewatering the mine
and treating the mine water will therefore have a positive effect on the quality of the Red River.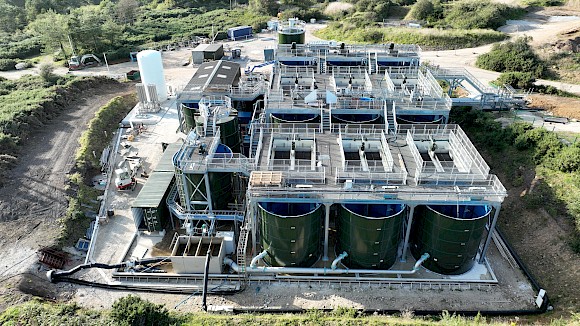 Drill program for metallurgical studies

The metallurgical drill program at the South Crofty Tin Project was completed in June 2023. Released assay results so far show true width intercepts up to 2.12m grading 3.24% tin in No 4 Lode and up to 1.46m grading 4.66% tin in Roskear B (see news release date July 3, 2023). Not only high grade tin assay results from a global perspective, but they also reflect typical widths and grades of the tin mineralisation encountered and mined historically at South Crofty and they confirm and add further confidence to the Mineral Resource estimate we have for the No. 4, No. 8, and Roskear B Lodes. Drilling has also now been completed. Assay results from the North Pool Zone and the Dolcoath lodes with four parent and 29 daughter holes respectively will be released when received.
We expect to receive the results from the metallurgical studies including diluted head grades, ore sorting amenability, gravity release and paste backfill studies by the end of Q3, 2023.
Exploration Targets South of the South Crofty underground permission area
Early 2023 we reported results from eight drill holes drilled in the Carn Brea South exploration area, located along the southern boundary of the South Crofty underground permission area (see news release dated January 10, 2023). The discovery of this new high-grade zone of tin mineralisation in the middle of a historic mining district demonstrates the exploration potential of the region. The Great Flat Lode, which lies above the Wide Formation, was mined historically over a five kilometre ("km") strike length, and make it a very compelling target to explore within and immediately adjacent to the South Crofty Underground Permission area. The shallow, high-grade tin intersects from the Great Flat Lode represent an opportunity to define nearby and near surface Mineral Resources to complement those we have already identified at South Crofty
The drill holes confirmed up-dip, near-surface, extensions of the historic Great Flat Lode and discovered tin mineralisation in a new target called the "Wide Formation", inferred to lie parallel to, north of, and beneath the Great Flat Lode.
Highlights:
Drilling was conducted along the southern boundary of South Crofty – an area easily accessible from existing mine infrastructure;
New discovery of high-grade tin mineralisation in the Wide Formation
CB21_002 2.77 metres ("m") grading 0.99% tin within a 12.14m wide zone of strong alteration and disseminated tin mineralisation;
All eight drill holes intersected tin mineralization;
Multiple high-grade tin intersects from the Great Flat Lode and related mineralised structures, including:

CB21_003 2.00m grading 1.44% tin
CB21_004 2.91m grading 1.66% tin
And 5.00m grading 0.97% tin
CB21_005 3.04m grading 1.08% tin
And 2.24m grading 3.93% tin
And 3.80m grading 1.64% tin
In September 2023, we commenced a 14-hole / 9,000 metre ("m") exploration drilling programme at the Wide Formation target in the Carn Brea South exploration area, located along the southern boundary of the South Crofty underground mine permission area. The drill programme is designed to test the geometry and the continuity of tin mineralisation within the recently discovered Wide Formation target. The alteration style in the Wide Formation, comprising pervasive tourmaline and quartz (termed "blue peach"), is similar in character to that associated with No 8 Lode, one of the most prolific tin producing lodes in the latter years of operation of the South Crofty mine. The drill programme will test an area measuring 2,500m along strike (northeast to southwest) and 500m downdip (north to south).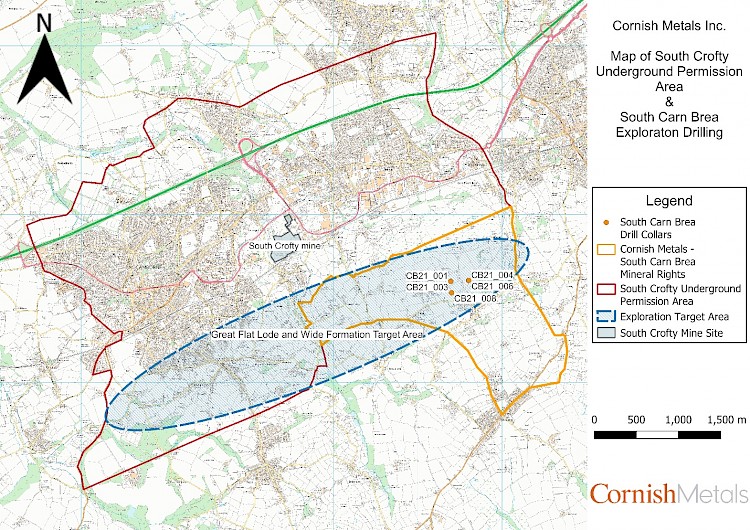 Figure 1 – Map showing the collar locations of the Carn Brea South drill holes in relation to the South Crofty underground permission area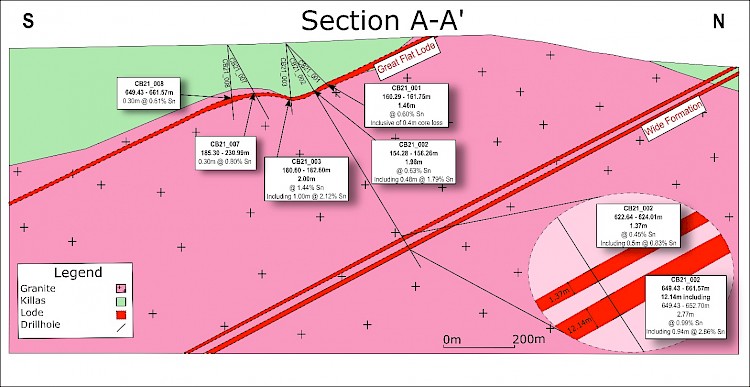 Figure 2. Section (looking west) of drillholes CB21_001, CB21_002 and CB21_003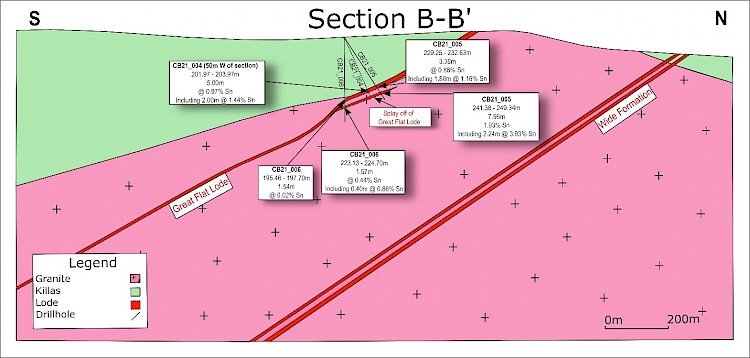 Figure 3. Section (looking west) of drillholes CB21_004, CB21_005 and CB21_006