"South Crofty is not just an old operation, but a new project leveraged with existing infrastructure"
(Owen Mihalop - Cornish Metals' COO)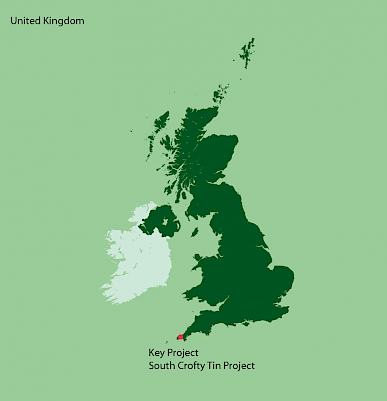 Cornish Metals Exploration's 100% owned South Crofty tin project is located in the Central Mining District of Cornwall, in the towns of Pool and Camborne, South West England.
Tin mining in this region dates back to 2,300 B.C. Large-scale production at South Crofty first started in the mid-1600s (the first documented production dated in 1592). The mine has been in operation intermittently since then, with the last closure in 1998 coming after a prolonged period of depressed tin prices. Historical production between 1700 to 1998 totaled over 450,000 tonnes of tin from the Central Mining District.
In March 2016, Cornish Metals entered into an agreement with Galena Special Situations Fund and Tin Shield Production Inc. to acquire a 100% interest in Western United Mines Ltd. ("WUML") and Cornish Minerals Limited (Bermuda) (the "Companies"), which owned the South Crofty tin project plus additional mineral rights over a further 7,500 hecatres located in various parts of Cornwall.. The closing of the acquisition was announced on July 12, 2016.
The South Crofty project is fully permitted, having underground permission (mining licence) valid until 2071, planning permission to construct a new process plant and a permit from the Environment Agency to dewater the mine. Cornish Metals plans to complete a feasibility study and to bring the project to a production decision.
The underground permission area covers 1,490 hectares and includes 26 former producing mines. Current infrastructure on the property includes four usable vertical shafts and a 300-meter decline. Regional infrastructure includes excellent access to power, roads and rail. The process plant site is adjacent to the railway line and accessible grid power crosses the property.South Crofty mineralization occurs in laterally extensive lode structures, with some over 4 kilometers long, and extending to a vertical depth of at least 1,000 meters.
2016 NI 43-101 Mineral Resource Estimate
The 2016 Mineral Resource Estimate for South Crofty is split into two sections: the Lower Mine with tin only resources and the Upper Mine with polymetallic resources including copper and zinc.
Lower Mine tin-only resource;


LOWER MINE MINERAL RESOURCE ESTIMATE AT 0.60% SN CUT-OFF
TONNES ('000S)
SN GRADE
CONTAINED SN (TONNES)
Indicated Resource
1,660
1.81%
30,000
Inferred Resource
738
1.91%
14,100
Upper Mine polymetallic resource, comprising tin, copper and zinc;


UPPER MINE MINERAL RESOURCE ESTIMATE AT 0.60% SNEQ CUT-OFF (1-12)
TONNES (K)
SN %
CU %
ZN %
SNEQ %
Indicated Resource
257
0.70
0.79
0.58
0.99
Inferred Resource
464
0.67
0.62
0.63
0.91
The full 2016 NI 43-101 report can be found here.
2017 Preliminary Economic Assessment
Cornish Metals published a N1 43-101 Preliminary Economic Assessment ("PEA") on South Crofty in February 2017. Highlights from the PEA include:
Base Case assumptions US$10/lb tin price / 5% Discount Rate
Pre-tax Net Present Value $165.9 million
After-tax Net Present Value $130.5 million
Internal Rate of Return 23.4%
Pre-production CAPEX $118.7 million
Payback period of 3.8 years
Life of Mine (LOM) sustaining CAPEX $83.8 million
Mine Life of 8 Years
Average LOM cash cost $3.36/lb tin equivalent
Average LOM all-in sustaining cash cost $4.44/lb tin equivalent
Mineralized material mined 2.575 million
Average grade 1.55% tin equivalent
The full PEA report can be found here.

Osisko Royalty Purchase and Mine Dewatering
On January 29th, 2018, we closed the agreement with our largest shareholder, Osisko Gold Royalties, to sell Osisko a 1.5% NSR royalty on the South Crofty project for C$7,170,000. Proceeds from the royalty sale are being used to construct the water treatment plant. Details of the $7.17 million note financing and grant of royalty option can be found here.
Galena / Tin Shield - Future Considerations
On March 28th, 2018, Cornish Metals announced that, pursuant to the Share Purchase Agreement ("SPA") announced March 17, 2016, regarding the acquisition of the South Crofty tin project, Cornish Metals, Galena Special Situations Master Fund Limited ("Galena"), and Tin Shield Production Inc ("Tin Shield") entered into a Side Letter to the SPA, whereby the remaining payments due to Galena and Tin Shield could be amended to allow Cornish Metals to remove certain share issuances and / or cash payments due on delivery of feasibility and / or a production decision to Galena and Tin Shield, provided that the Company's shares are listed on AIM before the end of 2018, in return for the following:
A payment of US$6.0 million, comprising US$3.0 million in cash and $3.0 million in Cornish Metals shares payable immediately upon completion of an AIM listing.
A payment of US$6.0 million, payable in cash and / or shares at Cornish Metals; election, payable within 5 business days of the Company securing project financing to build a mine at South Crofty.
The new payment structure replaces the original structure set out in the SPA (see news release dated March 17, 2016) set out below:
C$2.0 million (cash and / or shares at Cornish Metals' election) on June 10, 2018;
The issuance of 2,000,000 common shares of the Company to Galena / Tin Shield upon delivery of a positive feasibility study or commencement of commercial production, whichever occurs first;
Cornish Metals to make a cash and / or common share payment to Galena equal to 25% of the NPV of the project upon making a decision to go into production. In the event that Cornish Metals' market capitalization was less than the NPV of the project when a production decision was made, Cornish Metals would pay the equivalent of 25% of its market value to Galena and the balance (between the 25% of market value and 25% of the NPV of the project) would be paid out as a 5% Net Profits Interest from production.
In the event the AIM listing occurs after June 10, 2018, the Company will be required to make the June 10 payment of C$2.0 million (cash or shares at Cornish Metals' election) set out in the original SPA with that amount being credited towards the US$6.0 million payable upon the completion of the AIM listing.