"South Crofty is not just an old operation, but a new project leveraged with existing infrastructure"
(Owen Mihalop - Cornish Metals' COO)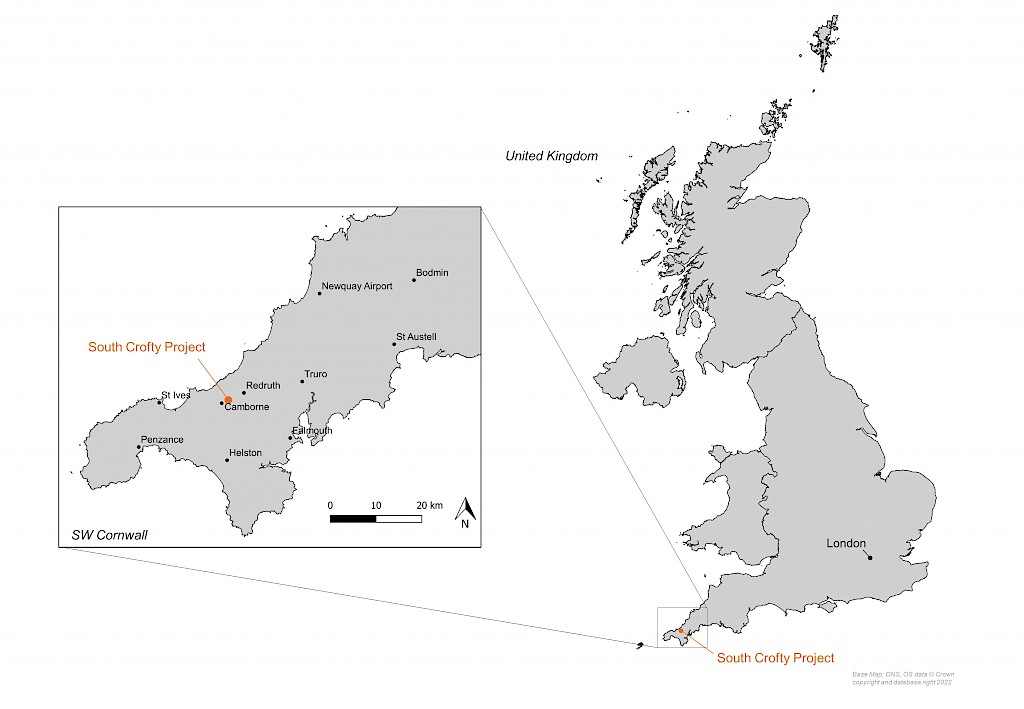 Cornish Metals Exploration's 100% owned South Crofty project is located in the Central Mining District of Cornwall, in the towns of Pool and Camborne, South West England.
Tin mining in this region dates back to 2,300 B.C. Large-scale production at South Crofty first started in the mid-1600s (the first documented production dated in 1592). The mine has been in operation intermittently since then, with the last closure in 1998 coming after a prolonged period of depressed tin prices. Historical production between 1700 to 1998 totaled over 450,000 tonnes of tin from the Central Mining District.
In March 2016, Cornish Metals entered into an agreement with Galena Special Situations Fund and Tin Shield Production Inc. to acquire a 100% interest in Western United Mines Ltd. ("WUML") and Cornish Minerals Limited (Bermuda) (the "Companies"), which owned the South Crofty tin project plus additional mineral rights over a further 7,500 hecatres located in various parts of Cornwall. The closing of the acquisition was announced on July 12, 2016.
The South Crofty project is fully permitted, having underground permission (mining licence) valid until 2071, planning permission to construct a new process plant and a permit from the Environment Agency to dewater the mine. Cornish Metals plans to complete a feasibility study and to bring the project to a production decision.
The underground permission area covers 1,490 hectares and includes 26 former producing mines. Current infrastructure on the property includes four usable vertical shafts and a 300-meter decline. Regional infrastructure includes excellent access to power, roads and rail. The process plant site is adjacent to the railway line and accessible grid power crosses the property. South Crofty mineralization occurs in laterally extensive lode structures, with some over 4 kilometers long, and extending to a vertical depth of at least 1,000 meters.
2021 NI 43-101 Updated Mineral Resource Estimate
The updated Mineral Resource Estimate ("MRE") for South Crofty in accordance with the JORC Code (2012). The Mineral Resource is divided into the "Lower Mine" and "Upper Mine" areas for reporting purposes. A summary of the updated MRE is tabulated below:
South Crofty Summary Mineral Resource Estimate

Area

Classification

Mass (000' tonnes)

Grade

Contained Tin / Tin Equivalent (000' tonnes)

Increase in contained Tin / Tin equivalent from 2016 MRE

Lower Mine

Indicated

2,084

1.59% Sn

33

10.2%

Inferred

1,937

1.67% Sn

32

129.8%

Upper Mine

Indicated

277

1.01% SnEq

3

9.5%

Inferred

493

0.93% SnEq

5

8.0%
The full updated 2021 NI 43-101 report can be found here.
June 2020 Drill Programme
In June 2020, Cornish Metals ran a drill programme designed to demonstrate the ability to infill drill the current resource from surface, to intersect multiple lodes from single drill holes and to show the potential exists to materially increase the current resource. This as a means to undertake resource definition drilling and a path to completion of a feasibility study.The results confirmed the high-grade nature and persistence of the know mineralised structures within South Crofty (hole SDD20-001B intersected 2.60m grading 10.33% tin between 974.20m and 976.80m, including 0.46m grading 39.60% tin from 975.77m). In addition, all drill intercepts reported lie outside the current NI 43-101 mineral resource and 5 new mineralised lodes were discovered, between, and adjacent to, historically mined lodes The initial programme comprised up to 2,000 metres of diamond core drilling from a single surface parent hole and up to three daughter holes that were wedged-off the parent hole.
Highlights from South Crofty SDD20 Drilling Program

Reference

Lode Name

From

To

Width

True Width (m)

Grade

Grade

Grade

Hole ID

(m)

(m)

(m)

(Sn %)

(Cu%)

(W %)

A

South Tincroft

376.55

378.77

2.22

1.15

0.77

2.69

1.73

SDD20-001

including

378.04

378.77

0.73

0.38

1.58

5.16

3.43

B

Tincroft

470.35

472.52

2.17

1.66

1.34

including

471.79

472.52

0.73

0.56

2.5

C

Intermediate

620.6

623.26

2.66

1.85

2.19

D

No. 1

788.87

789.89

1.02

0.72

1.87

E

No. 1 FW

810.59

811.15

0.56

0.4

1.08

F

New Wolfram Lode

949.58

950.68

1.38

0.76

0.26

SDD20-001A

Including

950.34

950.68

0.34

0.19

1.07

G

No. 4

976.52

977.82

1.3

1.27

0.39

Including

976.52

976.87

0.35

0.34

1.06

H

No. 8

1,028.76

1,029.96

1.2

1.19

0.92

Including

1,029.10

1,029.48

0.38

0.38

2.77

I

No. 4

974.2

976.8

2.6

2.6

10.33

SDD20-001B

Including

975.38

976.23

0.85

0.85

30.35

J

No.4 Footwall

993.8

996.06

2.26

2.25

1.26

K

No. 8

1,034.38

1,035.59

1.21

1.16

1.78

Including

1,034.38

1,035.21

0.83

0.8

2.48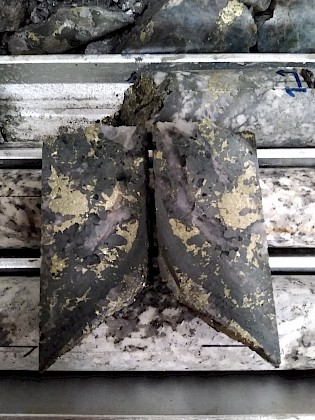 South Tincroft SDD20-001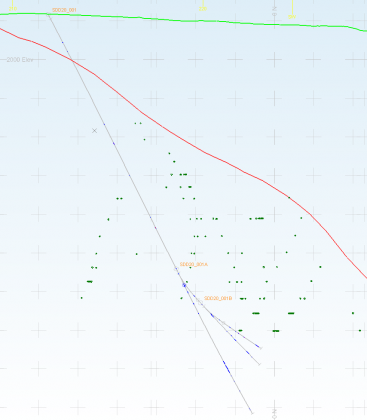 SDD20 - Cross Section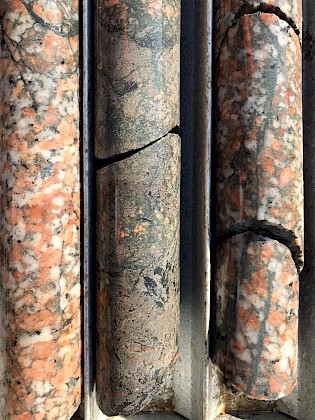 No. 4 Cassitertite Mineralisation SDD20-001b

SDD20-001b No. 4 Core Photo