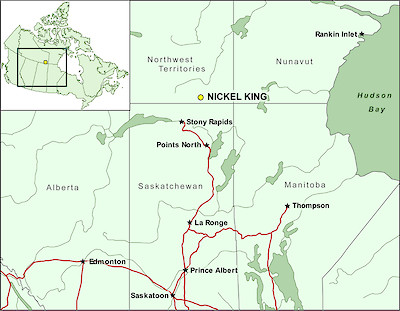 Cornish Metals maintains a 100% interest in the 7,642 hectares Nickel King property, located in the Northwest Territories, approximately 145 kilometers northeast of Stony Rapids, Saskatchewan. The property is situated within Pre-Cambrian age rocks along the Snowbird Tectonic Zone, a crustal-scale structure defining the boundary between the Hearne and Rae domains of the Archean Churchill Province.

A number of norite intrusions have been mapped within the property, some of which are known to host sulphide nickel-copper mineralization. The most important mineralization is found within the Nickel King deposit. The property also hosts at least nine additional high priority geophysical targets and mineralized showings, including the South Ring and Koona.
Nickel King Deposit
The Nickel King Ni-Cu-Co deposit is hosted within two arcuate stacked, moderately south-dipping norite sills (referred to as the Upper Sill and the Lower Sill);
Mineral claims have been converted to mining leases, ensuring long term, secure mineral tenure;
Mineralization has been traced over a total strike length of approximately 2,600 meters and consists of disseminated to massive lenses or ribbons of pyrrhotite-pentlandite-chalcopyrite;
Petrographic work indicates that pentlandite is the primary Ni-bearing sulphide mineral, occurring typically as discrete grains and only rarely as exsolution lamellae or flames in pyrrhotite. Sulphide metal contents ('Ni tenor') of the Upper and Lower Sills averaging from 3.0% to 5.0% and 4.5% to 7.0% Ni in 100% sulphides, respectively;
Details of the Nickel King NI 43-101 Mineral Resource Estimate and metallurgical test work can be found in the June 2010 technical report authored by PEG Mining Consultants Inc. (Download Nickel King NI 43-101 Technical Report)
Results of a final locked cycle metallurgical test projected the grade of the final concentrate to be 16.5% Ni, 4.2% Cu and 0.74% Co. Recoveries of Ni, Cu and Co are given as 78.4%, 89.1% and 63.5%, respectively (Cornish Metals news release #09-08 dated July 15, 2009);
A NI 43-101 compliant geological resource model has yielded 11.1 Mt grading at 0.40% Ni, 0.10% Cu and 0.018% Co containing 44,500 t of Ni, 10,600 t of Cu and 2,200 t of Co in the indicated category. The total Inferred Resource is 33.1 Mt grading at 0.36% Ni, 0.09% Cu and 0.017% Co containing 119,300 t of Ni, 29,000 t of Cu and 5,600 t of Co. The reported base case resource was determined at a 0.2% Ni cut-off (Cornish Metals news release #09-03 dated February 25, 2009);
Nickel King Deposit - Indicated resource estimate at various Ni cut-off grades
Classification
Nickel Cut-off
(%)
Tonnes
(000s)
Nickel
(%)
Copper
(%)
Cobalt
(%)
Indicated
0.15
14,082
0.35
0.08
0.016
0.20
11,111
0.40
0.10
0.018
0.30
7,340
0.48
0.12
0.021
0.50
2,773
0.62
0.15
0.027
Nickel King Deposit - Inferred resource estimate at various Ni cut-off grades
Classification
Nickel Cut-off
(%)
Tonnes
(000s)
Nickel
(%)
Copper
(%)
Cobalt
(%)
Inferred
0.15
43,974
0.31
0.08
0.015
0.20
33,061
0.36
0.09
0.017
0.30
19,609
0.44
0.11
0.020
0.50
4,930
0.59
0.15
0.026
Cornish Metals believes the Nickel King resource could be expanded considerably with additional drilling. Cornish Metals estimates that between 10 and 27 million tonnes (Mt) of 'potential mineral deposits' ("PMD") lie within areas of the geological resource model. These PMD occupy gaps within the NI 43-101 compliant resource estimate where there is insufficient drilling to classify an inferred resource. Modeled resource blocks falling within these gaps have instead been classified as potential mineralization. Cornish Metals' estimate of the tonnage of these PMD has been determined by modeling the pierce points of 23 proposed drill holes, representing approximately 5,200 m of drilling, through the geological resource modeling. PMD were estimated by adding together resource blocks that i) fall within a 75 meter area of influence around each proposed drill hole, and ii) were classified as potential mineralization at a 0.2% Ni cut-off within the geological resource model. The 27 Mt maximum PMD includes every resource block that satisfies the two criteria above. The lower 10 Mt PMD was determined by making a reasonable estimate of the minimum extent of mineralization expected within these areas of the deposit. The reader is cautioned that this estimate of PMD is conceptual in nature, that there has been insufficient exploration to define a resource in these areas of the Nickel King deposit and that it is uncertain whether additional exploration drilling will be successful in delineating a mineral resource in these areas;
Geophysical and structural modeling suggests that Nickel King mineralization may extend a further 600-700 meters along strike to the southwest of the current limit of drilling. The deposit also remains open up dip and along strike to the east.
In addition to the main Nickel King deposit, Cornish Metals' exploration has identified significant potential to discover satellite deposits. The best mineralization discovered to date has been at the South Ring and Koona targets.
South Ring
The South Ring target is located 3 kilometers south of the Nickel King Deposit;
The target is a coincident magnetic-electromagnetic anomaly located along the southern boundary of a circular magnetic feature having a circumference of approximately 4.5 kilometers;
Disseminated sulphide mineralization (po, pen, cp+/-gph) occurs in markedly coarser grained interstitial blebs or blobs.
In DDH NK07-16 the mineralized norite has returned 0.47% Ni over 21.16 meters with better nickel grades encountered near the end of the interval, including 0.40 m grading 2.3% Ni and 0.31% Cu;
NK08-48 tested 100 m along strike from NK08-46 and returned the following significant interval: 0.45% Ni and 0.28 % Cu over 20.58 m, including 2.08 meters grading 1.06% Ni and 0.64% Cu;
Mineralization is open in all directions from these three drillholes. The nickel tenor of the South Ring drill holes compares favourably with the Main Zone, indicating potential for higher nickel grades in association with greater concentrations of sulphide minerals.
Discoveries such as South Ring confirm the potential of the immediate Nickel King area to host multiple, near surface satellite deposits.
Koona
The Koona target is located approximately 1 kilometer east of the Nickel King Deposit and is defined by a 700 meters long electromagnetic anomaly;
Drilling in 2008 returned significant results in three holes: NK08-49: 1.74% Ni and 0.31% Cu over 1.14 meters, NK08-50: 1.02%Ni and 0.24%Cu over 4.35 meters, and NK08-53: 1.89%Ni and 0.37%Cu over 1.84 meters;
In total, drilling tested 400 meters of the 700 meters strike length defined by geophysics with all intersected mineralized intervals occurring close to surface (<40 meters);
The nickel tenor of the Koona zone is similar to the Main Zone.