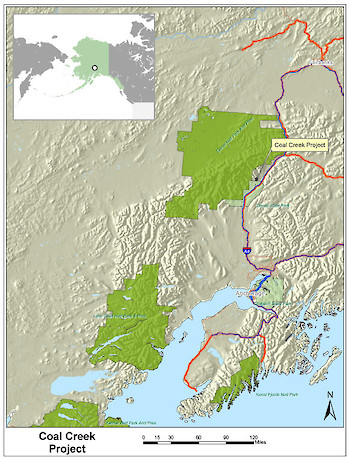 The Coal Creek property is comprised of the CC 1 through CC 15 State of Alaska mining claims totalling 971.3 hectares (2400 acres). The property is located 11 kilometers (7 miles) southwest of Colorado Station on the Alaska Railroad 282 kilometers (175 miles) north of Anchorage, Alaska.

The property is located in a part of the Alaska Range was targeted in 1980 by Houston Oil and Minerals Company ("HOM") for the exploration of Bolivian-style tin deposits. Tin enrichment was discovered at the Coal Creek prospect in association with sheeted, east-west trending greisen alteration within a north-northeast elongate granite porphyry stock. The greisen alteration extends across the buried aplitic cupola of the highly evolved biotite granite stock and into the surrounding hornfelsed sediments.

HOM was active on the Coal Creek property in 1979-1983 and 1985 when it conducted various geological, rock and soil geochemical and geophysical surveys. HOM also completed a total of 5240.5 meters (17,193 feet) of NQ core drilling in 40 holes on the Coal Creek project (two holes were abandoned) during 1980-1982. The HOM drill results indicate that the majority of the tin mineralization is hosted in steeply dipping tabular greisen bodies, separated by altered, but relatively barren zones of granite. In 1980-82 HOM drilled a mineralized tin greisen system associated with a buried cupola in a 500 meters by 180 meters (1700 X 600 feet) dike like granite porphyry.

HOM (Thurow, 1982) estimated 4.85 million long tons (4.77 tonnes) of mineralized greisen at an average grade of 0.27% tin, an estimate which can only be considered conceptual as it does not meet the minimum requirement for classification as a Canadian Institute of Mining, Metallurgy and Petroleum ("CIM") standard mineral reserve.

This historic estimate is not current and is not compliant with CIM standard definitions. A qualified person has not done sufficient work to classify this historical estimate as current mineral resources and Cornish Metals is not treating the historical estimate as current mineral resources. Neither Qualified Person Mr. William T. Ellis, C.P.G. of Alaska Earth Sciences, Inc. ("AES"), author of the June 22, 2015 NI 43-101 technical geology report nor Cornish Metals have verified the calculations and they are not reconcilable with current resource categories as specified by CIM standard definitions. A qualified person has not evaluated this historic estimate on behalf of Cornish Metals and comment cannot be made with respect to what work needs to be done to upgrade or verify the historical estimate as current mineral resources. This historical estimate is reported here for information purposes only and should not be relied upon.

In November, 2005 HOM drill core from the Coal Creek property stored at the Alaska Geologic Materials Center was examined and re-sampled in a few key mineralized areas, verifying the nature and grade of the tin-silver mineralization. A site visit was made on June 24, 2006 where 7 HOM drill collars were located and high grade tin greisen mineralization was found on the surface. AES on behalf of Brett drilled 4 core holes under the supervision of Qualified Person Mr. Ellis in July and August of 2006, one of which twinned an HOM drill hole and verified the presence of tin-silver-zinc greisen mineralization in sheeted veins above and in the roof zone of a biotite granite cupola.

The 2005 re-sampling of HOM core and the 2006 drilling that was completed with the application of appropriate quality control and quality assurance measures, adequately repeated the HOM results, confirming the Coal Creek Exploration Target as a significant occurrence with the potential to be an economic tin-silver deposit. Based on review and confirmation of historic results and the 2006 drilling, a tin-silver bearing mineralized body has been identified that may warrant further exploration.

Only two out of four drill holes completed in 2006 reached the buried cupola target due to difficult drilling conditions. In 2007, AES recommended additional drilling to verify the tenor of mineralization and to better define and expand the extent of the tin-silver-zinc mineralization which is currently open-ended to the south, to the east, and at depth.