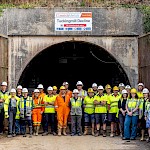 ESG Manager
Cornish Metals Inc is a mining company advancing the South Crofty tin project in Cornwall, UK, through an active mine dewatering and water treatment programme and the completion of a parallel Feasibility Study, in order to make a decision to proceed to full mine and mill construction. We are seeking to fill the position of ESG Manager for the company's current and future operations, which requires the successful applicant to be based in Cornwall and work from the company's offices in Pool, Redruth.
Tin has been identified by the UK government as a critical mineral and is essential to the energy transition to an economy based on renewable power generation and the objective of reaching net-zero. Furthermore, tin is found in all things electronic, including computers, 5G networks, robotics, electric vehicles, solar panels, etc, and will play a very important role in the technology world.
Ideal candidates will have a minimum of five years' experience in ESG-related work, plus a BSc or MSc degree in environmental science, geoscience, sustainability or similar, with a preference for experience in the mining / exploration or other natural resources sectors. Exposure to publicly listed companies and the current ESG reporting requirements of them would be essential. The role requires candidates possess excellent written and oral communication skills, proficiency in use of MS Word, Excel and PowerPoint, strong data collection and analytical skills.
Working with the management team and reporting to the CEO, the successful applicant will be required to develop and co-ordinate the implementation of the Company's ESG programme, including but not limited to the following:
Manage the environmental performance aspects of the Company's ESG programme and develop and implement the company's sustainability strategy.
Develop systems to manage ESG-related performance data and monitor progress toward achieving ESG performance goals.
Co-ordinate preparation of internal and external ESG communications and data provision.
Scope and manage the Company's inaugural and ongoing annual Sustainability Reports. •
Develop and manage the Company's climate-related commitments and reporting. •
Identify ESG initiatives with the Community Outreach, HR, OH&S and other relevant teams across the company, and assist in their implementation.
Track and respond to emerging ESG trends, frameworks and sector-specific developments •
Assist with integrating ESG risks and opportunities into the Company's Risk and Opportunities Register.
In time, build, lead and develop a full ESG team to support the growing scale of operations and activities.
Compensation package will be commensurate with the role and industry benchmarks. Please submit cover letters and CVs to hr@cornishmetals.com.
---